For obvious reasons, I've still got 9/11 on my mind. In the spirit of
my post on September 10
, here is a series of graphics from the NYTimes to help us wrap our little brains around just how much money has been spent, lost, wasted, stolen, etc. because of 9/11.
From
the NYTimes blurb
:
Al Qaeda spent roughly half a million dollars to destroy the World Trade Center and cripple the Pentagon. What has been the cost to the United States? In a survey of estimates by The New York Times, the answer is $3.3 trillion, or about $7 million for every dollar Al Qaeda spent planning and executing the attacks. While not all of the costs have been borne by the government — and some are still to come — this total equals one-fifth of the current national debt. All figures are shown in today's dollars.
A single cube in each stack represents $1 billion spent, lost, wasted, or stolen:
If, for example, you click on the "War Funding" cube, it breaks the costs down further: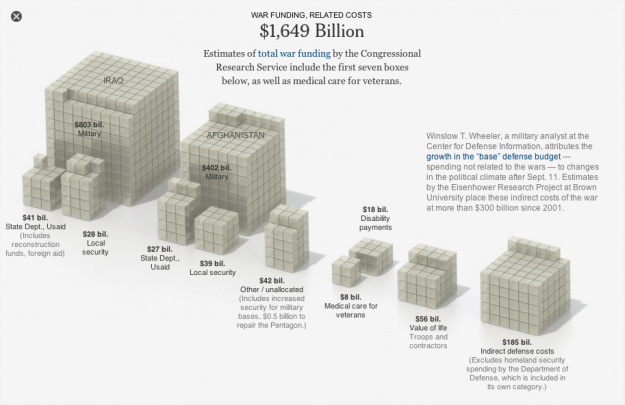 So, Al Qaeda's
return on investment
, a.k.a.
rate of return
(in the sense of the amount of damage caused to the USA per dollar spent by them on the attacks) was an astounding 700,000,000% (700 million percent). If only I could achieve similar returns in the stock market .... But seriously, with a rate of return like that, I expect that we'll continue to face similar attacks (or at least plots) like 9/11 in the future - that kind of ROI is probably too tempting to pass up, especially for a terrorist.